Aurum Asset Management Signs Strategic Partnership with Centcorp
6th September, 2019 – London – Aurum Asset Management announced that they have signed a partnership agreement with Canada-based, Centcorp Limited. The agreement is dated 30th August, 2019.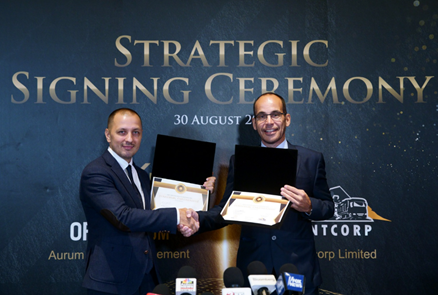 Centcorp Limited is headquartered in Canada and incorporated in the Republic of Seychelles. Mineral development and production projects around the world form the core of Centcorp Limited's operations. Centcorp Limited offers one-stop solutions for mining projects that include operational advisory, bankable feasibility studies, in-house laboratory, engineering, management, and operational services, capacity building, plant construction as well as the implementation of industrially proven innovative technologies in mining. By doing so, Centcorp Limited offers a fully integrated approach to the management of mineral project development and extraction operations.
Centcorp Limited has been rapidly enhancing its technical competencies and increasing the diversity of its machinery and equipment used in the gold mining industry. Centcorp Limited strives to identify the problems and needs of its customers on-site and to provide effective solutions that satisfy these needs.
Under the terms of the strategic partnership agreement with Aurum Asset Management, Centcorp Limited will be responsible for identifying key projects and aspects where Cyanide Recovery and Tailings Detoxification technologies can be employed to provide an environmentally sound approach to gold processing. To date, Aurum Asset Management has begun employing Centcorp Limited's Cyanide Recovery and Tailings Detoxification technologies on a trial basis at its gold mine in Madagascar and will begin full-scale implementation in the first quarter of 2020.
Given the current focus on environmental sustainability by regulatory authorities and communities worldwide, it is imperative that mining and mineral processing adhere to the environmental demands of the community for the development of gold deposits while maximizing gold recovery and revenue. Centcorp Limited's use of RCYAN is the world-leading approach in cyanide recovery, metal recovery, and tailings detoxification. RCYAN reduces cyanide consumption by 50%, capturing free cyanide from the plant tailings and recycling it back into the leach circuit while recovering metal complexes and making them available for sale. In the process, RCYAN detoxifies the tailings stream and guarantees 100%-compliant clean water discharge.
"I am delighted to sign this Strategic Partnership Agreement on behalf of Aurum Asset Management and I am sure all my colleagues at Aurum Asset Management share the same feeling of excitement and optimism when we think of the wonderful possibilities that can come about as we enter this historic partnership," said Mateen Sal Khalid, CEO of Aurum Asset Management.
Company Overview
Aurum Asset Management is the parent company of OpenAurum which helps Artisanal Small Gold Mines (ASGMs) to increase their gold production through the effective use of innovative technologies and advanced mining techniques.
Headquartered in the United Kingdom, the management of the company has over three decades of experience in providing investors with diversified investment strategies across various asset classes worldwide.
The company's primary business activity is the digitalization of physical gold assets, including mines through the use of blockchain technology, thereby creating high-value, secure, asset-backed security tokens.
Media Contact
Company Name: Aurum Asset Management Ltd
Contact Person: Nicodemo Lowell
Email: Send Email
Country: United Kingdom
Website: http://www.openaurum.io/