Textbook Buying Tips 101: Compare Prices on Slugbooks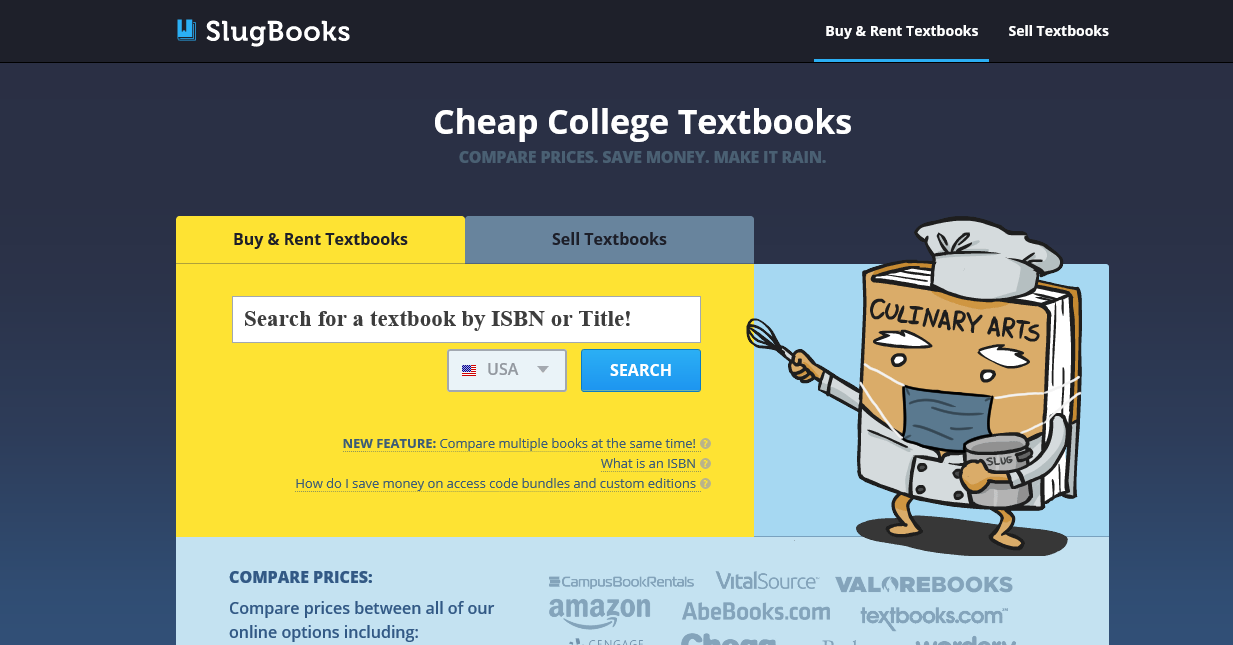 Nowadays, most of people spend at least one fourth or third of their whole life to receive education. At the same time, education is a heavy financial burden for lots of people and families. So, do you want to save your education expenses like savvy consumers? Do you want to relieve those unnecessary education expenses? If your answer is "yes", maybe you can start with textbook buying.
Slugbooks is a website that can help you, especially college students buy, rent, or sell textbooks. It's an ideal website to help you find the textbook with the lowest price available, relieving your heavy financial burden and creating a more student-friendly marketplace for textbooks.
Strengths and Shortcomings of SlugBooks
Its strengths are as follows. First, you can compare different prices on different platforms and select one of your most satisfying one. Second, if you want to sell your used textbooks, you can take part in the Student Exchange to connect those freshmen or others who need the same book, a way to maximize your used book if you are a sophomore or junior student. Moreover, the prices in SlugBooks are almost lower than those in your school, saving you a lot of money.
However, it also has some drawbacks. On the one hand, SlugBooks offers the low prices of your wanted books with vendors. But if you make further research, you will find lower prices on other websites like Half.com and Thriftbooks whose prices are not shown on Slug Books. On the other hand, if there are no sellers at your university, the Student Exchange won't be shown on SlugBooks at all. Apart from these two points, the prices of SlugBooks don't include the shipping and handling fees. It's of great importance for you to know the seller's shipping fees before you buy a textbook.
How to Operate SlugBooks
Just type in the school and the class. Or, you can also type in the ISBN or Title. You will get the corresponding book's list price with the lowest prices from the most trustworthy online new, used, rental, and digital textbook sellers like Amazon, CampusBookRentals, VitalSource, and so on.
To take the book Love and The Cheetah, whose ISBN is 9781788672504, for example, after you type in the corresponding ISBN, you will quickly find the price list from various vendors. If you click "buy it", you will get different prices from different sellers and can see the seller's information including the seller ratings. So, just choose one based on your own needs.
One more thing needs to be mentioned is that this website has its application, suitable for mobile phone users to operate. According to what I have mentioned above, we can see SlugBooks is a wonderful website that can help you compare prices on different platforms until you find your satisfying books, saving your time, energy, and more importantly, price.
Apparently, purchasing a large number of textbooks will waste a lot of money. If some textbooks have their correspondingly free e-books, you can try these books. Some of these e-books are edited by others; while others are those some people scan the paper book and use Image to PDF Converter to form PDF files. Usually, the scanned e-books are very large. So, if you want to download this kind of e-books, you can choose the PDF Compressor to make them smaller.
To conclude, if you want to buy or sell textbooks, you can visit the SlugBooks or download its application through your mobile phones, which will save you lots of money and energy. If you don't want to buy too many textbooks, you can try to download their corresponding e-books, saving you much more money as well.
Media Contact
Company Name: Contconcord
Contact Person: Shiraz Kahn
Email: Send Email
Phone: +923367199988
Country: United States
Website: https://contconcord.com