Elektrashock Producer Darnell Williams Helps Producers Master Unreal Engine Film & TV Production
On September 9, 2021 Elektrashock Producer Darnell Williams (www.elektrashock.com) will address producing Film and TV projects faster and for less using the Unreal Engine. Full details at www.nancyfultonmeetups.com
Hollywood, California – On September 9, 2021 film and television producers seeking guidance on how the Unreal Engine can swiftly reduce the cost of producing their project, while significantly increasing the speed of production and the quality of content that ends up on screen, can attend a live online lecture featuring leading Virtual Production Supervisor and Producer Darnell Williams.
Full details can be found at www.nancyfultonmeetups.com.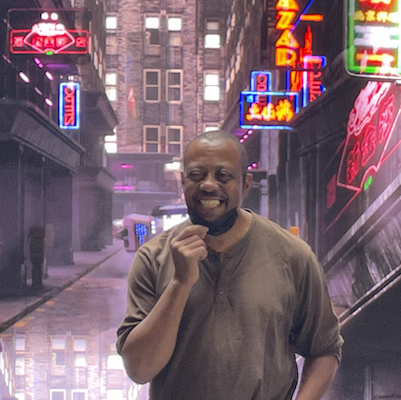 Nancy Fulton, founder of NancyFultonMeetups.com, will interview Williams live online. Fulton currently supports more than 50,000 media professionals through live online training. She offers her followers an extensive library of more than 100 recorded workshops covering everything from how to write a screenplay, to the fundamentals of copyright and work for hire agreements, and how to work with banks and investors to fund film and TV projects.
Since 2015, Fulton has run hundreds of expert events featuring a wide range of entertainment industry leaders. For full details on her workshops visit www.nancyfultonmeetups.com.
Darnell Williams, founder of Elektrashock Studios (www.Elektrashock.com), is an expert in virtual production and motion capture technology. He's worked for Digital Domain, Walt Disney Imagineering, Nvidia, MTV, Sony Pictures, Square, etc. Darnell has supported producers at every budget level, working with them to develop, budget, and produce exceptional and innovative motion picture, television, and marketing content swiftly and cost effectively.
In talking about the event, Fulton says, "Darnell's background in Maya, Unreal Engine, MotionBuilder, Zbrush, Cryengine, Unity 3D, RealFlow, C++, Python, MoSys, NCAM, ARRI, BlackMagic, and a wide range of face and body motion capture systems, along with his experience managing indie-production and FX teams working nationwide, make him the go-to production partner for many producers. He is a strong concept artist and illustrator which ensures what production teams and studios envision is what ends up on screen."
Williams adds, "The Unreal Engine is a high speed, free, 3D gaming platform used by hundreds of millions worldwide. There's a reason why film and television producers at studios around the world are using the platform. Whether you are producing a feature film, television series, game show, talk show, or animated feature or series, Unreal Engine dramatically cuts production costs while increasing production value. It represents a revolution for the entertainment industry, and it offers very important advantages to indie and small producers."
Fulton continues, "You can place live actors inside Unreal Engine 3D environments. You can shoot special FX in real time (explosions, fires, laser blasts, gunfire) on set rather than in post production. And you can put live actors and 3D digital characters in the same scene with live actors in real time. We are entering a new epoch in media production."
Producers interested in attending this live online workshop, can sign up at www.nancyfultonmeetups.com. Those with questions can email [email protected].
About Nancy Fulton Meetups
Nancy Fulton has been running several online and face-to-face workshops for producers, authors, screenwriters, performers, and experts selling services since 2015. She has 50,000+ followers and an extensive library of in-depth training resources at www.nancyfultonmeetups.com
Media Contact
Company Name: NO BETTER FRIEND ENTERTAINMENT LLC
Contact Person: Nancy Fulton
Email: Send Email
Country: United States
Website: http://www.nancyfultonmeetups.com/