Shopanova, Leading Digital Advertising Agency, Announces "The eComm Growth Show"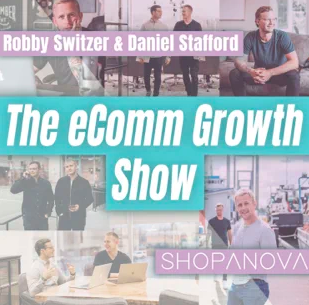 This industry-leading podcast offers eCommerce sellers the tips, tricks, and tools needed to make a mark on the eComm world.
ANCHORAGE – Robby Switzer and Daniel Stafford, co-founders of Shopanova, announced today their podcast "The eComm Growth Show," an industry-leading podcast that shares the trials and tribulations of the eCommerce industry – and how businesses and entrepreneurs can make their mark.
In each episode, Switzer and Stafford interview heroes of the eCommerce industry, hear their stories and pick their brains about the secrets of success that have gotten them where they are today. Past guests have included The Bookish Box & Shop, Sheets & Giggles, and Chamber Media.
"Now more than ever, it's important for brands to get out of their comfort zones and start growing," said Switzer. "But a lot of eCommerce brands, especially ones just starting out, might not even have a clue of where to start. That's where 'The eComm Growth Show' comes in."
In addition to hearing inspiring and motivational stories, podcast subscribers will learn how to get more sales through targeted marketing strategies, unlock the secrets to post-pandemic success, and avoid common mistakes online store owners make.
"We know that behind every amazing brand, there are people who have made mistakes and had victories," said Stafford. "We wanted to bring those stories to life, share how other people can follow in their footsteps, and offer resources and guides on how eCommerce sellers can take their brand to the next level."
"The eComm Growth Show" is available on Spotify, Apple Podcasts, and on their website.
About Shopanova
Shopanova is a modern growth media buying agency for eCommerce shops. They have been able to grow their clients' monthly revenues from 5 figures all the way to 7 figures and beyond. For more information on how to build a generational online brand and scale your business to millions, please visit https://shopanova.com
Media Contact
Company Name: Shopanova
Email: Send Email
Phone: +1 682-233-1893
Country: United States
Website: https://shopanova.com/