"When God Says 'YES!'" – A Tale of a Phenomenal Malawian Woman
There was a time when Africa, and specifically, Malawi was accused of not producing enough homegrown literary works. That era has long since passed. Africans, in particular Malawians, are authoring and publishing more books by the day. Finally, the African and, indeed, Malawian narrative, is growing in leaps and bounds for the world to devour. From fiction to nonfiction, writers from the "Warm Heart of Africa" are being bold and taking up their rightful literary space. Each Malawian author's book proudly joins the ranks of other authors worldwide as if to say, "We too are here. Here is our treasure: here is our story."
One category of books that has garnered some new publications from Malawi over the past couple of years is that of "Autobiography". Our present times have ensured that the voices and lives of many amazing Malawian men and women are now available to add to the wealth and legacy of literary works. Countless moments can be spent engulfed in the experiences engraved in books of people who have lived extraordinary lives or ordinary lives in extraordinary ways. Though Malawian female authors are largely underrepresented, there is a glimmer of hope from the growing voices of Malawian queens taking pens to paper and with each word revealing to the world what some have known all along: Malawi has many hidden yet glorious treasures.
Hilda Rosetta Makonyola, a Malawian/Canadian born in Malawi, is one such female author who has decided to share with the world her enchanting life story, a treasure titled "When God Says Yes". If you have ever had the privilege of being in the grip of an African storytellers' word as they share a tale over a fire-side on a quiet night with clear skies, then you will feel that familiar enchantment within the pages of this book. Her book is spellbinding, charming, and unique. It takes the tone of an honest simplicity as the author recounts her captivating life story, with a rhythm of ups and downs as if she is singing her life song.
In her book, Makonyola illustrates for the reader a full life lived over three continents since she was born in the year 1958, in Malawi as the twelfth born of fourteen siblings. She shares with the reader her heartbreaks and her joys. She shares her stories of motherhood, passion, romance, the pursuit of self-actualization, and national service with an easy but colourful style. The book has you rooting for her to find lasting love, financial stability, and overall prosperity. Makonyola reveals to you her sincere faith in God as she navigates various adventures, some that neither she nor the reader ever sees coming. Her story captures the abuses she survived and the champion that she emerged as on the other side of it. Her personality and character brim through the pages as you see her from various vantage points. At times as a fashionista, entrepreneur, widow, lover, diplomat, mother, hopeless romantic, and dotting grandmother.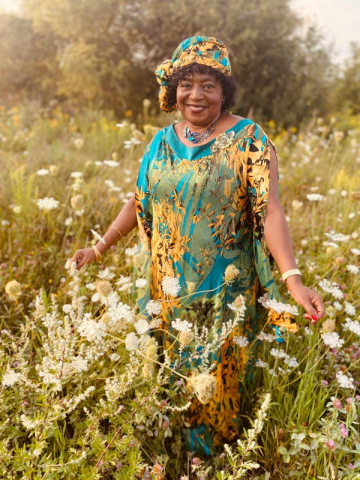 "When God Says Yes" is a testament of a woman of faith and a gift from one of Malawi's modest queens to the next generation of women and girls. Her story shares lessons that a discerning woman or girl can learn from for their lives. It also paints a potent picture for men who are willing to gain insights into the lives of women and maybe even "empathize" with them.
Makonyola hopes that this book inspires women and gives them the strength to persevere through whatever life challenges they are presented with. She adds that she intends to show her life as an example of when God can do the impossible for those that believe and stay strong and brave.
One critic remarked that when they read this book, they kept on thinking of Maya Angelou's Phenomenal Woman. Another reader shared how this book "felt" like a 'Malawian' Neria. "When God Says Yes" is one more book by the under-represented and hidden. Another model for women and girls showing them how full a life can be lived whilst bearing her soul, successes, and even mistakes with humility, class, dignity, and grace. This book is a gem, waiting to be enjoyed and treasured by lovers of books and novelty worldwide.
Media Contact
Company Name: Skillsway Books
Contact Person: Media Relations
Email: Send Email
Phone: +265980034066
Country: Malawi
Website: https://www.skillsway.org