Vinyl Sign Supplier Acquires Two Websites To Serve Their Customers' Vinyl And Craft Making Supplies Needs
H & H Sign Supply acquires SignsPlusBanners.com and CraftersCornersSupplies.com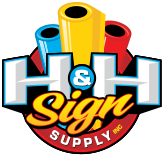 Sturgis, KY – August 3, 2022 – This week, H&H Sign Supply, a vinyl sign and heat transfer vinyl supply company serving customers nationwide, announced the acquisition of two Minnesota-based websites: SignsPlusBanners.com and CraftersCornersSupplies.com. The acquisition of the two websites will expand H & H Sign Supply's geographic reach as the company will be able to provide two business-day delivery for most products to the previous company's customer base.
Nick and Tanis Holt, co-founders of H & H Sign Supply, said, "We admired the websites of both companies, and we wanted to serve their customers since the company was going out of business. Many of their customers happen to be in our state and in nearby states, and we believe that we can serve their customer base very well with our current product lines and delivery capabilities."
Tanis continued, "We will offer their customers our product lines which either are the same or are suitable replacements for the products their customers were purchasing. Some of the product lines we carry include Oracal, Orafol, Mimaki, Siser, Summa, Griff Decorative Film, Graphtec, FDC Lumina, RTape and SignLab. Our product lines cover wall and floor graphic materials, sign making materials, vehicle wrapping products, heat transfer material and more. We also carry most of the desired sign making and vinyl sign accessories and related products like license plate blanks, corrugated yard signs, magnetic and banner material, and related products. We look forward to serving the customers of the previous company and hope that they will become loyal customers of ours very soon."
According to the H & H website, it benefits customers with great products at low prices, helpful customer service, prompt service and delivery, accuracy of orders and a best price guarantee. Same day shipping is available as well as one-day shipping for Kentucky and nearby areas. Two-day shipping is available to northern Ohio, Alabama, Arkansas, Delaware. Florida, Georgia, northern Illinois, Iowa, Virginia, West Virginia, North Carolina, South Carolina, Louisiana, Maryland, Michigan, Minnesota, Mississippi, Missouri, New Jersey, New York, Pennsylvania, Washington, D.C., Wisconsin, and eastern Kansas.
Parties interested in learning more about the products available are encouraged to visit the company's website, visit the company's social media channels, or call H & H Sign Supply directly at (866) 443-7140. Media interested in topics pertaining to vinyl supplies, banners, crafting equipment and materials, and sign-making materials are welcome to contact Tanis Holt in the same manner.
Relevant links:
Facebook: https://www.facebook.com/hhsignsupply
Instagram: https://www.instagram.com/hhsignsupply
Pinterest: https://www.pinterest.com/hhsignsupply
YouTube: https://www.youtube.com/channel/UCBLZQFlBejvIgv61geoWqlw
Media Contact
Company Name: H & H Sign Supply, Inc
Email: Send Email
Phone: (866) 443-7140
Address:51 Blakeley Rd
City: Sturgis
State: KY 42459
Country: United States
Website: https://www.hhsignsupply.com/