Inspiring book "Joynetix" by Saj Shah is available worldwide, a powerful guide for unlocking joy, living in the present, and retraining the brain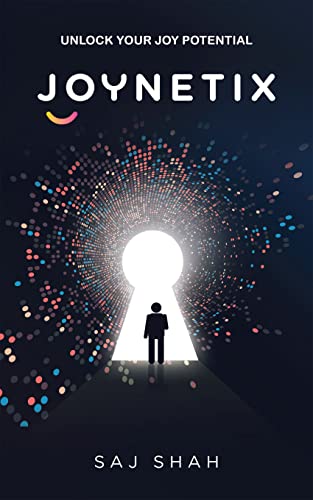 "Joynetix: Unlock Your Joy Potential" by Saj Shah is now available worldwide. This 240-page guidebook for personal and professional development tackles the concept of joy with actionable, practical advice, transforming the stress of daily life into opportunities for happiness, gratitude, and growth.
Acknowledging that society today is marked by tiredness, feelings of burnout and overwhelm, and an alarming lack of joy, Saj Shah has created a framework for injecting positivity into even the most mundane and unpleasant moments. Rooted in epigenetics, psychology, neuroscience, and time-tested Eastern philosophy, the tools and stories presented help readers retrain their brains to step back, reassess, and use energizing techniques to create a new default reality. The bite-size daily practices cultivate a sense of purpose, and lead to increased playfulness, fun, laughter, and ultimately, a method of interacting with the world in a way that cultivates wellbeing.
With a background as a corporate executive, entrepreneur, and twenty-five years in the fields of healthcare and life sciences, Saj was inspired by personal experiences to reevaluate his own relationship with joy. This powerful period of reflection led to co-founding two companies dedicated to battling the ongoing epidemic of stress and anxiety, as well as delivering a now-viral TEDx talk titled "3 Keys to Unlock a Dash of Joy."
Watch the TEDx talk here: https://www.youtube.com/watch?v=RRQ9AUhnmY4Shah's personal and professional history, as well as his dedication to helping others live their best lives, come together in this book to offer a clear path away from cyclical patterns of negativity. By harnessing the healing power of joy, people everywhere can take control of their lives to find fulfillment, meaning, and peak performance.
Joynetix: Unlock Your Joy Potential (ISBN: 9781982284763) can be purchased through retailers worldwide, including Barnes and Noble and Amazon. The paperback retails for $11.56, and the ebook retails for $4.99. Review copies and interviews are available upon request.
Learn more at https://joynetix.com/
About the book:
Have life challenges sucked the energy out of you? Use these scientifically inspired techniques to reclaim yourself and reignite inner delight.
Is the pursuit of achievements, accomplishments, and accolades leaving you empty? Are you frustrated by days filled with anxiety and fear? Looking to kickstart a personal transformation? Pharmacist, lawyer, entrepreneur and a viral TEDx speaker, Saj Shah has turned his experiments and research into a method to help others practice cheerful, balanced living. Now he's here to share his time-tested approach to self-discovery and revitalization.
JOYNETIX: Unlock Your Joy Potential is a powerful prescription for overcoming any obstacle. Combating our modern lifestyle of on-demand culture and high expectations, Saj walks you through releasing unnecessary STORM (stress, tiredness, overwhelmedness, resignation, and misery) to trigger deeper satisfaction. And when you shift your mentality to one focused on wellness, you will experience boosted motivation, vitality, and good health.
In JOYNETIX, you'll discover:
– Cutting-edge epigenetics, psychology, and neuroscience combined with ancient wisdom to help make happiness accessible in the moment
– How to conquer any external circumstance no matter what and spark your joy
– That gaining self-control and resilience reveals a profound peace
– Ways that you can improve your mental and physical well-being for a refreshing upgrade to quality of life
– Bite-size daily practices, the three-step model of notice-reset-generate (NRG), and much, much more!
JOYNETIX is the backbone of your transformative and individualized change. If you like science made simple, encouraging advice, and getting energized, then you'll love Saj Shah's essential guidebook.
Buy JOYNETIX to embrace boundless contentment today!
About the author:
Saj is passionate about people finding their joy. In his book JOYNETIX, Saj shares his keys to unlock a dash of joy in the moment. Saj has been on a mission to find out what ultimately brings us joy and how to generate it in the moments when you need it most. He regularly speaks about cultivating joy as a natural antidepressant and antidote to burnout. Saj has a background in pharmacy and law with a diverse corporate career spanning 25 years in the healthcare and life sciences fields. As a former senior leader at AstraZeneca, Saj brought his leading edge joy methodology and thinking into the organization to enable the creation of game-changing digital health solutions designed to transform the lives of patients. Now, as an independent health technology entrepreneur he has co-founded multiple businesses dedicated to creating novel stress-resilience technology solutions. He is also the CEO and Founder of JOYNETIX which evolved from his book into a consultancy that empowers and enables global organizations to generate thriving joy-fueled cultures at work to expand well-being, optimize performance, elevate productivity and spark innovation.
Media Contact
Company Name: MindStir Media LLC
Contact Person: Jen McNabney
Email: Send Email
Phone: 800-767-0531
Address:1 New Hampshire Ave Suite 125
City: Portsmouth
State: NH
Country: United States
Website: https://mindstirmedia.com/