Anime Pops Up Cosplay Extravaganza Coming To Chicago.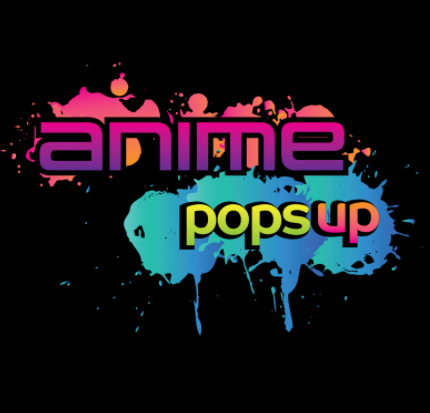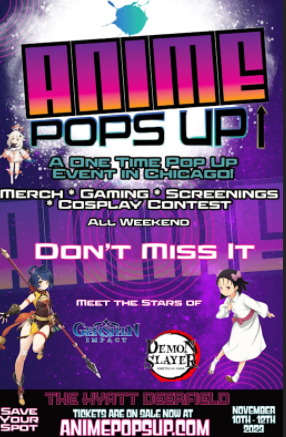 Are you ready to unlock your inner hero, transform into your favorite character, and step into a realm of pure fantasy? Anime Pops Up is doing a Cosplay Extravaganza at the Hyatt Deerfield, from November 10th to 12th! It will be an unforgettable weekend of anime, cosplay, and tons of fun! Anime Pops up can be found at: animepopsup.com
Cosplay Extravaganza
Anime Pops Up is a celebration of all things anime and they are going all out on Cosplay this year! Whether you're a seasoned pro or just starting, this is the place to shine. Picture yourself in the spotlight, showcasing your meticulously crafted costumes and embodying your favorite characters. The excitement is palpable as you immerse yourself in a world of creativity and endless possibilities!
Cosplay Contest with Spectacular Prizes!
Do you have what it takes to claim the title of the ultimate cosplayer at Anime Pops Up? Their cosplay contest is not to be missed! Show off your cosplay skills, strike your best poses, and captivate the judges for a chance to win amazing prizes! Whether you're into anime, manga, gaming, or pop culture, there's a category for everyone. Prizes await the champions, and the glory of victory is within your reach!
What to Expect:

• Cosplay Workshops: Hone your crafting skills and learn from the experts.
• Cosplay Photoshoots: Capture stunning memories with fellow cosplayers.
• Meet & Greet with Special Guests: Rub shoulders with your favorite voice actors and artists.
• Themed Panels and Discussions: Engage in lively conversations about your favorite series.
• Anime Screenings: Enjoy exclusive anime screenings and sneak peeks.
• Vendors and Artists Alley: Shop for unique merchandise and artwork.
• And Much More: Immerse yourself in the anime world!
Anime Pops Up is not just a convention; it's an experience that will leave you with cherished memories and lifelong friendships. Whether you're a dedicated cosplayer, an anime enthusiast, or simply looking for an extraordinary weekend of fun, you won't want to miss this!
Grab Your Tickets Now!
Secure your spot at Anime Pops Up in Deerfield, IL, from November 10th to 12th. Get ready to celebrate your passion for anime and cosplay like never before. Animepopsup.com
Media Contact
Company Name: Anime Pops Up
Contact Person: John Browning
Email: Send Email
Country: United States
Website: https://www.animepopsup.com