New novel "Wonderful Counselor" by Amanda Elyse Bleak, MS, LMHC is released, an inspirational story of a professional therapist who must face past trauma to stop her path of self-destruction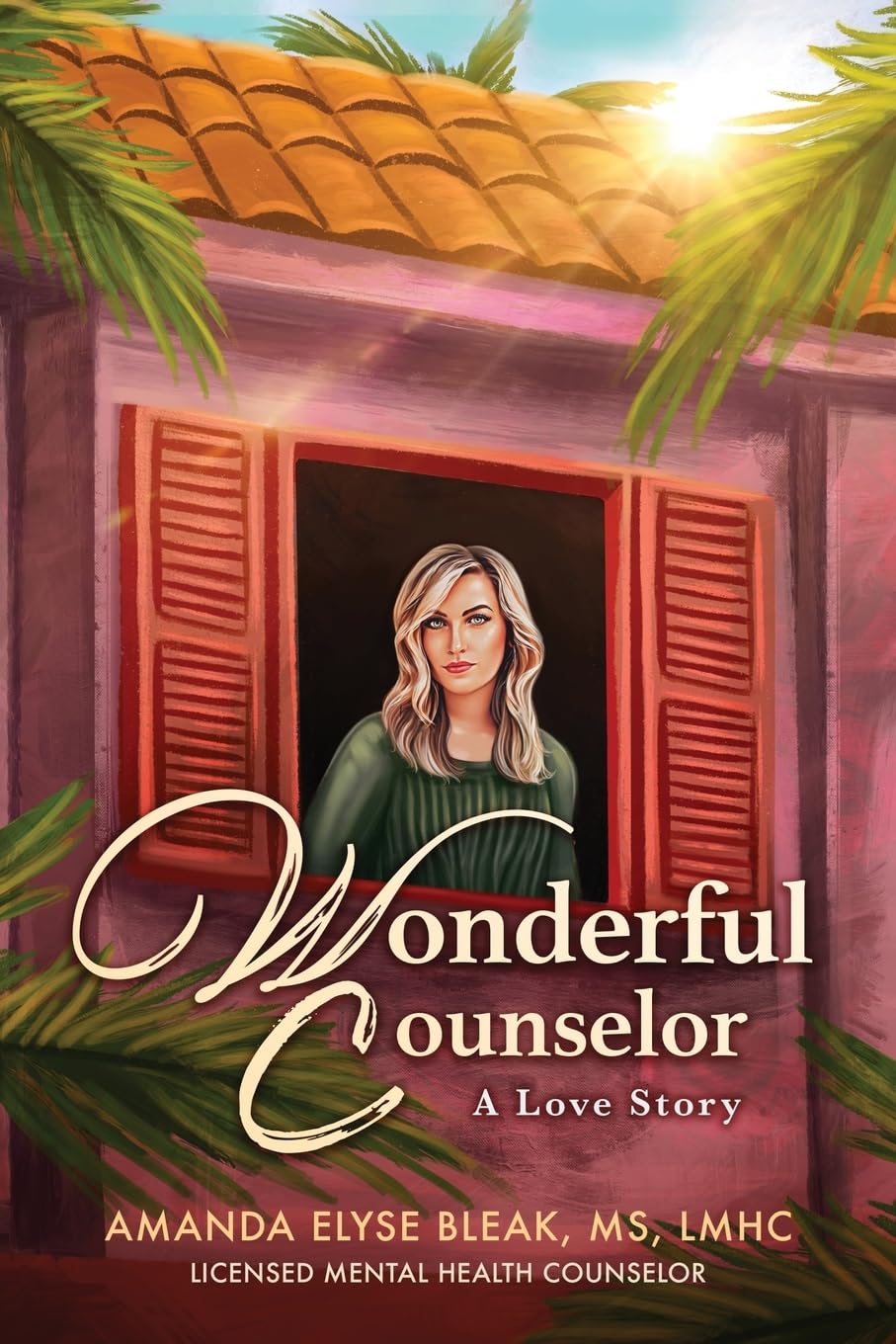 "Wonderful Counselor: A Love Story" by Amanda Elyse Bleak, MS, LMHC has been released worldwide. This powerful, 232-page novel follows the story of Lillian Reynolds, a mental health counselor who specializes in trauma, but has yet to heal from her own. Living and working in Florida, but still tied to mysterious family roots in her home state of Michigan, Lillian struggles with her own troubled past, her relationship with God, and her own self-destructive tendencies.
While she has tremendous success with her clients, Lillian can't seem to find the peace and healing she brings to others. As she barrels toward a hurricane, questioning her worth, God's involvement in her life, and if she'll ever be able to experience joy, Lillian reflects on the past and the ways she has helped others to rediscover the love all around her.
Using her own experiences as a Licensed Mental Health Professional, author Amanda Elyse Bleak brings firsthand knowledge of trauma and psychological distress to her characters, as well as a grounded realism to the day-to-day activities of the profession. This basis in clinical practice and real world experience extends throughout the novel as Lillian and her clients experience the breakthroughs and transformations possible through psychotherapy.
The protagonist also faces a spiritual crisis during her process of self-discovery, as many trauma survivors do on their path to healing. This deeply personal journey is beautifully represented by the author, drawing readers into Lillian's inner turmoil and helping them examine their own.
Through painful moments and triumphant breakthroughs, this novel candidly shows the path to healing, love, and acceptance that is possible through faith and counseling. Drawing from both her professional life and personal experience overcoming trauma, Amanda Elyse Bleak has woven an inspiring tale that employs actual therapeutic techniques and helps normalize the struggles associated with mental health.
The result is a fantastic, inspiring story that doesn't shy away from difficulty, and shows the limitless power of love and understanding.
Wonderful Counseler: A Love Story (ISBN: 9781958729403) can be purchased through retailers worldwide, including Barnes and Noble and Amazon. The paperback retails for $16.99 and the e-book retails for $2.99. Interviews and review copies are available upon request.
From the back cover:
Lillian Reynolds faces the darkness of mankind daily as a licensed mental health counselor specializing in trauma. Her interest in psychology began during childhood. While exploring her grandparents' northern Michigan lakefront property, she realized something was different about her family tree.
Now living in the historic and romantic city of St. Augustine, Florida, she is drawn to the struggles her clients overcome, observing as they find purpose and meaning in their suffering.
She acknowledges the work of God in what she does but struggles to accept His work in her own life. Due to her past of complex trauma, she views Him as distant and punishing. Now in a race against an environmental storm, with deception in her heart, she sets off on a self-destructive path driven by the storm within. Is she worth saving, or will she succumb to the darkness she so easily battles for others?
Experience a love story through the lens of a psychotherapist who offers therapeutic techniques and glimpses of hope while navigating an often tragic and painful world.
About the author:
Amanda Elyse Bleak, born and raised a Michigander, calls Florida home. She achieved a Bachelor of Arts degree from the University of Miami, majoring in Psychology, and a Master of Science degree from Palm Beach Atlantic University in Counseling Psychology. She currently is a Licensed Mental Health Counselor working passionately to empower children, adolescents, and families in crisis to find hope and healing. Most importantly, she is a confessed sinner, forgiven and redeemed by the sacrifice of Jesus. Married to her best friend of more than 30 years and blessed with three beloved children and three devoted dachshunds, she finds peace and joy in knowing that there will soon be a day with no more fears, pain, or tears. Until that day, she is determined to help humanity recognize and embrace the beauty from their ashes as she remains an ever-loyal seed planter for the One True God.
About MindStir Media:
MindStir Media LLC is an award-winning book publisher. To learn more about publishing a book with MindStir Media, visit http://mindstirmedia.com or call 800-767-0531.
Media Contact
Company Name: MindStir Media LLC
Contact Person: Jen McNabney
Email: Send Email
Phone: 800-767-0531
Address:1 New Hampshire Ave Suite 125
City: Portsmouth
State: NH
Country: United States
Website: https://mindstirmedia.com/