LOVE AT FIRST SIGHT! PERFORMING AND RECORDING ARTIST JOHN O'BRIEN RELEASES AN ORIGINAL MUSIC VIDEO CELEBRATING LIFELONG LOVE AT FIRST SIGHT
St Augustine Beach, FL – August 26, 2019 – New music video that celebrates lifelong love at first sight with John O'Brien's hit song from his album "The Love You Need".

Love is such a beautiful thing. It's always part of us and everything we do. I've always been amazed when I see two people that are so in love, that it's as if nothing else around them is even happening. They are oblivious to everything except each other. I've also thought a lot about that moment when you might see somebody for the first time standing somewhere in the place where you are and somehow your mind takes you to a place where you and that person are close and feeling love for each other. This happens to everybody, even though you may have never seen that person before, never interacted with or spoken with them and remarkably, you don't know whether you'll ever see them again as long as you live.
I asked myself, what is that all about? I concluded that there is a very strong human emotion in all of us that love is happiness. That there are many things that can make a person happy, but the one thing that trumps any other source of happiness is the feeling of being in love with another person and just being absorbed in the comfort that comes from that love. I was scheduled to go to a recording session at Full Sail Studios in Orlando, Florida where I was scheduled to record two new songs. I had written another song that was about the love I felt for my brother after he had passed away from an overdose of opioids and I just had to find that other emotion of love, the love I just wrote about.
Video Link: http://www.youtube.com/embed/_R0h2KB89B8
I thought about my son, who is a rap artist, and his girlfriend and thought about how happy they are together. I ended up dwelling on that and this song just came out of me and I literally wrote it in two hours. And while it may not be about them, it may not be about anybody, but what it is definitely about is that feeling of love that we all want so badly.
It is a song of love at first sight ("your beauty gripped me right from the start"), the joy of confronting that person in those feelings ("I heard some music and I wanted to dance"), the joy that comes from actually being together and having the love grow to a point that is unmistakable ("you've made my world just so much brighter"), and finally the love of staying together forever ("I never realized I could love you so much").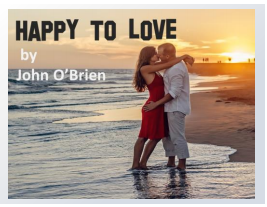 In its totality what the song says it is we are all really, really "Happy To Love". – John O'Brien The "Happy To Love" video was directed and produced by Award-Winning videographer and filmmaker Victor Zimet who also directed John's prior music videos including "By The Throat" and "California Wildfire" (also from the album "The Love You Need"). Zimet, who is also an accomplished documentary filmmaker, has captured such high-profile performing artists as Cyndi Lauper, Rory Gallagher, Black 47, and Nenad Bach. He has also produced feature films including "Random Lunacy" and "Fanatic Heart."
See video: https://youtu.be/_R0h2KB89B8
Listen to Song: https://open.spotify.com/track/65h0Nqw8jzL435OpjvJYuB?si=uNYdmgMVQAORlrcZymQHfQ
Listen to the Album: https://open.spotify.com/album/03FVOeFxDSkYbNKaFQUVmm?si=ZYgi8mRcTrabmatqGD_qyw
Media Contact
Company Name: John O'Brien Music
Contact Person: Mark Connolly
Email: Send Email
Phone: +1 585 317-7458
Country: United States
Website: https://johnobriensmusic.com